The single most important thing that has been passed to me by the Pidcocks* is that the documentation gives an artifact a history and allows you to learn about each artifact and how it fits into the puzzle that we call life.
*Thelma and D.E. "Pid" Pidcock were IAS members for more than 50 years and recorded over 150 sites
Artifact Collecting in Iowa: Do's and Don'ts
| DO | DOn't |
| --- | --- |
| get landowner's permission before collecting | trespass |
| catalog and label all finds | dig in or around archaeological features |
| record site locations with the Office of the State Archaeologist (OSA) | collect human remains |
| report any human remains or burial sites to the OSA | collect from public land without a permit |
| try to identify artifact types represented in your collection | buy or sell artifacts (many items on the market are fakes) |
| join the Iowa Archaeological Society | mix artifacts from different sites |
| give programs to school groups | let your collection be dispersed by auction |
| allow professional archaeologists to view and study your collection | let your hard work go to waste by losing data on your collection |
| read about artifacts and archaeology | let artifacts become damaged by storing them in piles or letting them rub together |
| participate in public field schools whenever possible | re-work or re-shape artifacts (gluing broken artifacts back together is okay) |
| enjoy your hobby! |   |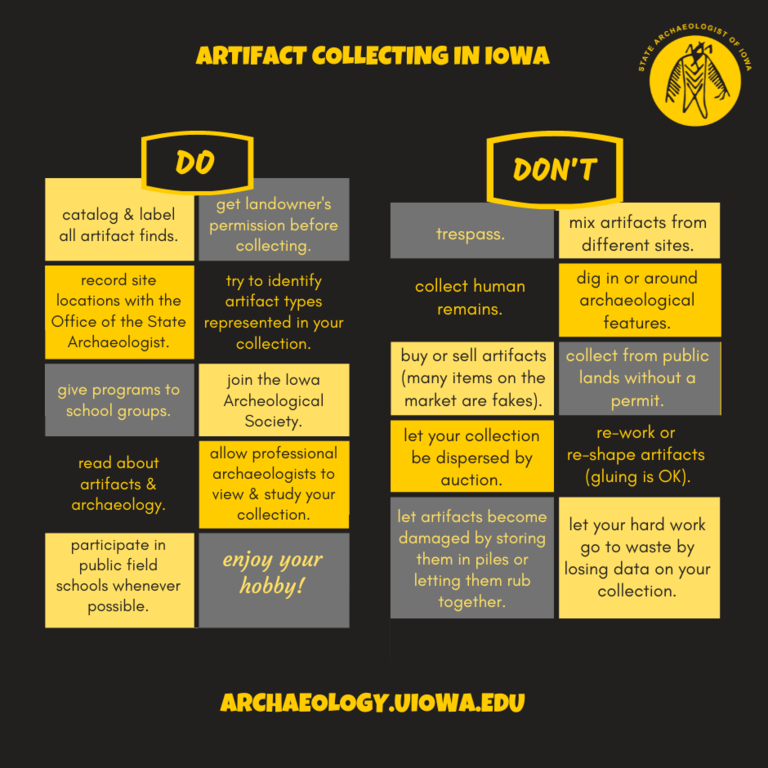 Best Practices for Personal Collections
In addition to the do's and don'ts above, we recommend these best practices for caring for your personal collections.
Organize your artifacts:
As mentioned above, we strongly recommend you do not mix artifacts from different collections or site locations. Keep detailed notes of which artifacts you found where, or create a catalog to assist your organization.

OSA can provide you with a catalog template or recommendations for record-keeping.

Be conscientious about how you store your artifacts. Paper bags, shoeboxes, and buckets all provide opportunities for insects or other animals to damage your collections. We recommend using Ziploc bags, recycled plastic containers with lids (such as pill bottles or baby wipe containers), recycled glass containers, or plastic food storage. Ensure all have tightly closing lids.
If you choose to clean your artifacts:
For stone and ceramics: Use only a toothbrush and water. It helps to wash artifacts in a sieve over a tub of water so you do not lose anything.

For metal objects, use only a dry brush.

Ensure that artifacts are completely dry before transferring them to storage to prevent mold and mildew from growing. We recommend drying your artifacts for 1-2 weeks.

Please note that archaeologists continue to innovate by improving residue analysis technologies. If washed, food residue on pottery may be damaged and blood or plant residue on stone tools will be lost.
If you choose to label, repair, or mount your artifacts:
If you must label your artifacts, do NOT use white-out. It will damage the object and cannot be easily removed. If using a Ziploc bag, you can write labels on the bag with a permanent marker or include paper labels. For other containers, we encourage you to create paper labels and store these labels and notes inside the container.

Do NOT use super glue, gorilla glue, or any other strong adhesive you may find at a hardware store.

If you must glue something, use Elmer's glue. It is water-soluble and can easily be removed if needed.

OSA can provide further recommendations for archival quality materials for this labeling, repairing, or mounting artifacts.